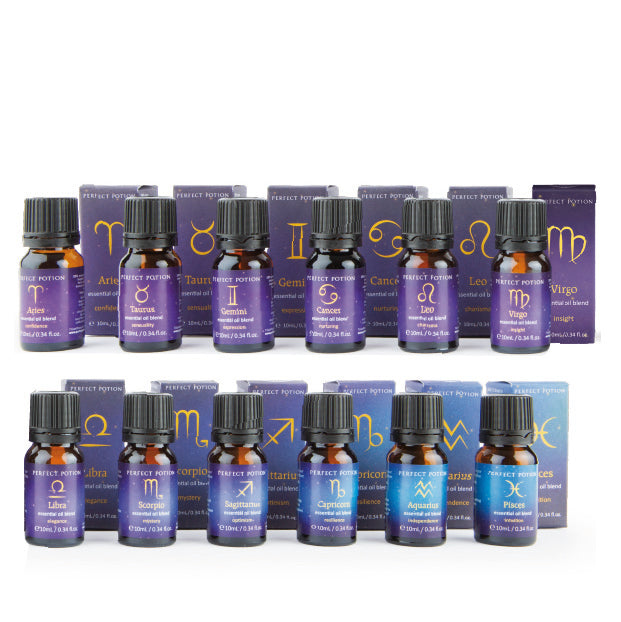 Zodiac Complete Collection Essential Oil Blends
For the modern astrologer, combine your love of the stars with the power of aromatherapy. Harness the full power of the Zodiac with the complete set of essential oils, offered at a generous discount.
* Wooden stand not included
100% Vegan
Palm Oil Free
Cruelty Free
Australian Made
Recyclable Packaging
Sustainably Sourced
The Collection

Aries
March 21 - April 19
Confidence with rosemary

Taurus
April 20 - May 20
Sensuality with rose

Gemini
May 21 - June 20
Expression with basil

Cancer
June 21 - July 22
Nurturing with German chamomile

Leo
July 23 - August 22
Charisma with jasmine

Virgo
August 23 - September 22
Insight with lavender

Libra
September 23 - October 22
Elegance with geranium

Scorpio
October 23 - November 21
Mystery with patchouli

Sagittarius
November 22 - December 21
Optimism with black pepper

Capricorn
December 22 - January 21
Resilience with vetiver

Aquarius
January 22 - February 19
Independence with neroli

Pisces
February 20 - March 20
Intuition with melissa
Free Australian Shipping
We provide free shipping on all Australian orders over $50
$10 flat-rate shipping for orders under $50
$15 express shipping available on *most orders
International Shipping
We calculate live rates for International shipping at the checkout, to give you the best price for your order.
Full details of International Shipping
*due to freight restrictions, not all products can travel by air, and therefore cannot be sent via an express service. We will notify you at the checkout if we offer an express service for your order.