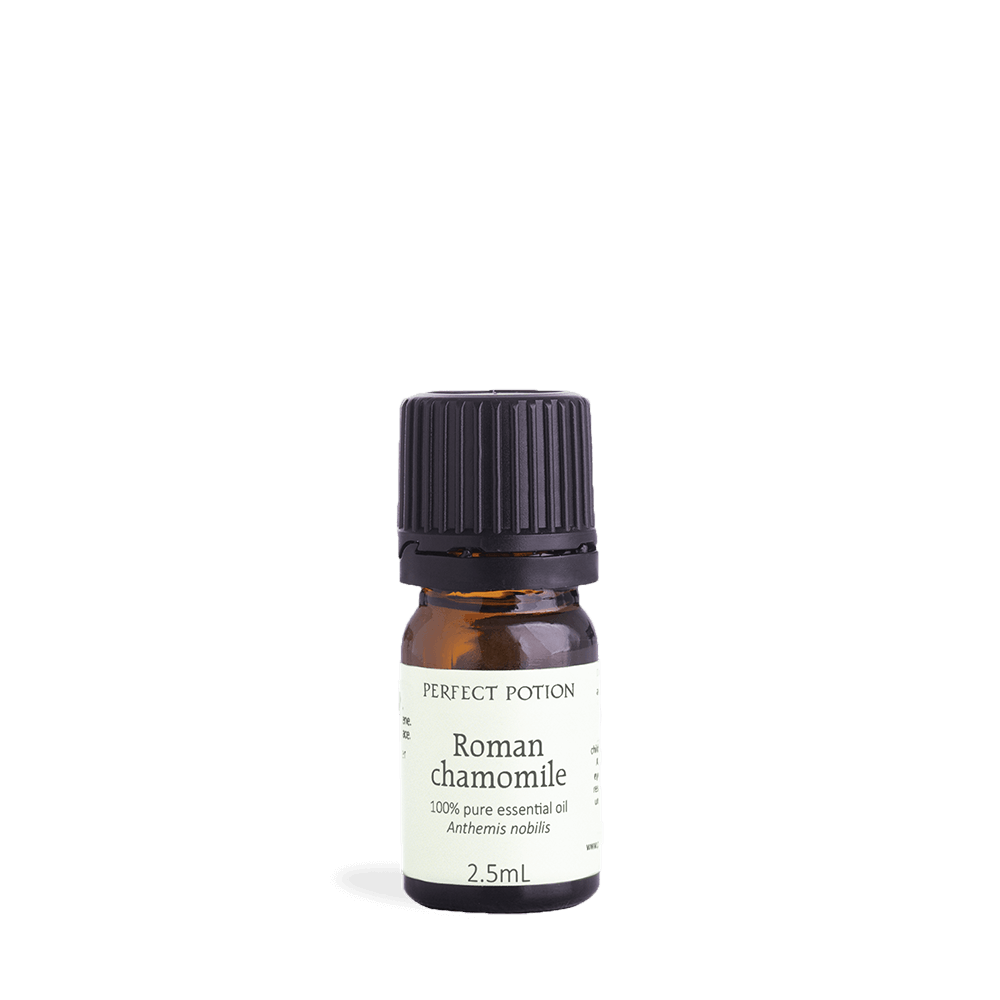 Chamomile, Roman Pure Essential Oil
In stock & ready to ship
The delicate scent of Roman chamomile is harmonising, serene and peaceful. It promotes inner peace. Helps to soothe rashes and irritated skin.

Please note that this 2.5mL pure essential oil is contained in a 5mL bottle.
100% Vegan
Palm Oil Free
Cruelty Free
Australian Made
Recyclable Packaging
Sustainably Sourced
Botanical name: Anthemis nobilis
Country of Origin: France
Method of Extraction: Steam Distillation
Aroma Profile: A pale yellow to yellow-green mobile liquid with a very sweet herbaceous, somewhat fruity-warm and lea leaf-like odour that is very diffusive with little tenacity.
Uses: Roman chamomile is harmonising, serene and peaceful and used to alleviate stress.
Subtle: Roman chamomile promotes spiritual awareness and inner peace.
Chakra: Throat, third eye and crown chakra
Skin care: Soothes rashes and irritated skin.

Cautions: Non-toxic, non-irritant and non- sensitising. There are no contraindications.
The typical chemical composition of Roman chamomile oil is Isobutyl isobutyrate 4.5%, isobutyl methacrylate 2.3%, a-pinene 6.45%, a-pinene 0.61%, isobutyl methyl butyrate 1.45%, isobutyl isovalerate 0.19%, isoamyl isobutyrate 0.63%, 2 methyl butyl isobutyrate 3.01%, para-cymene 0.22%, isobutyrate angelate 12.65%, methyl allyl angelate 9.05%, butyl angelate 0.47%, trans pinocarveol 8.76%, methyl butyl angelate 4.58%, isoamyl angelate 8.28%, pinocarvone 2.74%, borneol 0.34%, myrtenal 1.04%, methyl amyl angelate 10.08%, germacrene D 0.52%
Add 2-5 drops to your Perfect Potion diffuser, or add 3 drops to every 10ml of pure vegetable oil to use as a massage oil.
Free Australian Shipping
We provide free shipping on all Australian orders over $50
$10 flat-rate shipping for orders under $50
$15 express shipping available on *most orders
International Shipping
Additional charges may apply for shipping this product outside Australia.