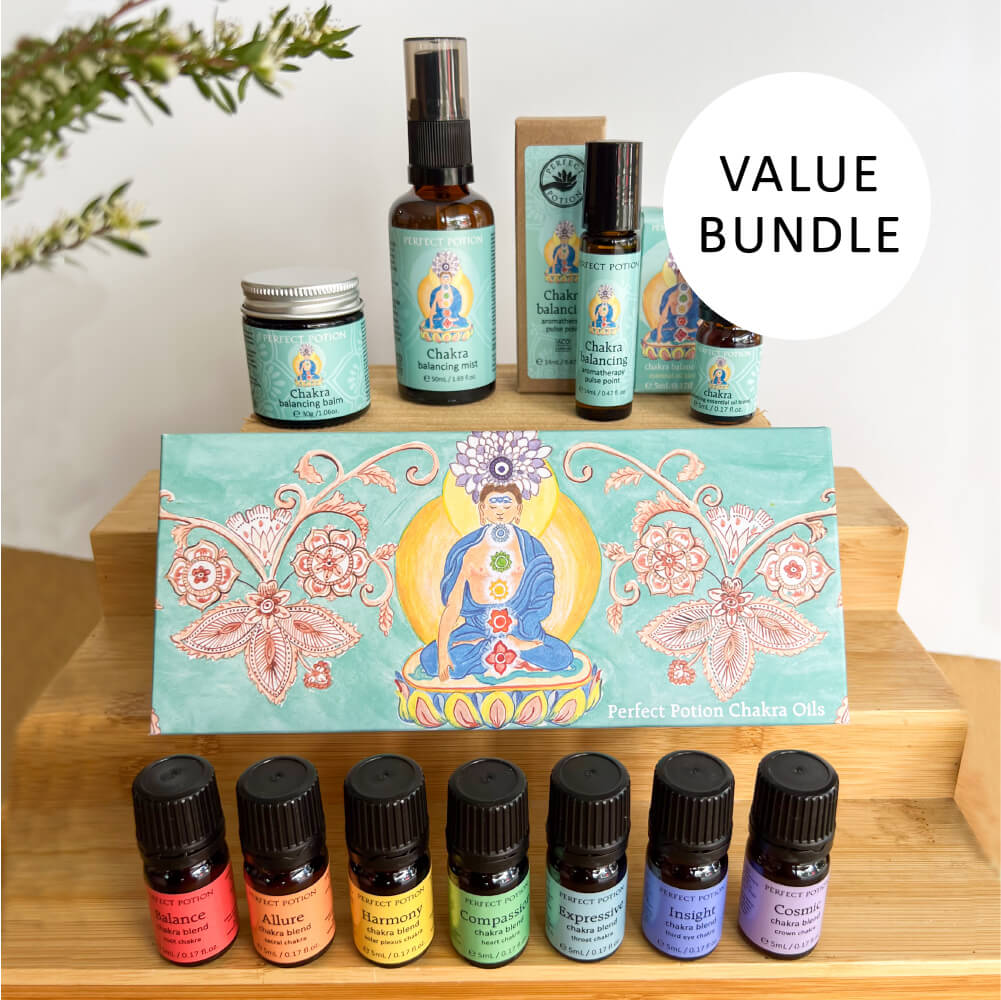 Chakra Balancing Value Bundle
In stock & ready to ship
22% DISCOUNT! LIMITED TIME OFFER
Delve into the world of chakras and aromatherapy with our top-selling chakra collection. Including chakra balancing must-haves for when you want to balance on the go. And the complete chakra collection including seven individual blends which allow you to specifically address each chakra and heal any imbalances as they occur, and to support your journey of self-discovery.
Includes: Chakra Balancing Balm, Chakra Balancing Aromatic Mist, Chakra Balancing Pulse Point, Chakra Balancing Essential Oil Blend, Chakra Essential Oil Kit (7 blends).
Cruelty Free
Australian Made
Recyclable Packaging
Sustainably Sourced
Includes:

Chakra Balancing Balm

An easy way to restore balance while you're on the go, Chakra Balancing Balm can be applied to the wrists, temples and over your chakras as needed. This balm also makes a beautiful natural, solid perfume.

Chakra Balancing Mist

Mist your body from head to toe as desired or use as a room spray. Ideal to use before meditation, doing yoga or simply when you feel the need to rebalance your energy centres.

Chakra Balancing Essential Oil Blend

Personal inhalation: Chakra Balancing essential oil blend helps relieve feelings of energy imbalance.
By balancing our chakras we can create harmony and balance of our body, soul, mind and spirit. When we awaken and balance our chakras, we unleash the potential to live a rich and vibrant life. Room Diffusion: Balances the mood in the room. Helps create a harmonious atmosphere and a balanced disposition.

Chakra Balancing Pulse Point

Reach for Chakra Balancing aromatherapy pulse point whenever you feel stressed and scattered to pull your energy back into alignment; use it to enhance your meditation or yoga practice; or simply wear the beautiful aroma as a perfume to maintain your equilibrium.

Chakra Essential Oil Blends Kit

Use the chakra essential oil blends as tools to balance the energy of your chakras, supporting your emotional and spiritual wellbeing. The seven individual blends allow you to specifically address any chakra imbalances as they occur and support your journey of self-discovery.

This kit contains seven (7) 5ml chakra blends made from the finest quality, aromatherapy-grade, pure essential oils.
Free Australian Shipping
We provide free shipping on all Australian orders over $50
$10 flat-rate shipping for orders under $50
$15 express shipping available on *most orders
International Shipping
We calculate live rates for International shipping at the checkout, to give you the best price for your order.
Full details of International Shipping
*due to freight restrictions, not all products can travel by air, and therefore cannot be sent via an express service. We will notify you at the checkout if we offer an express service for your order.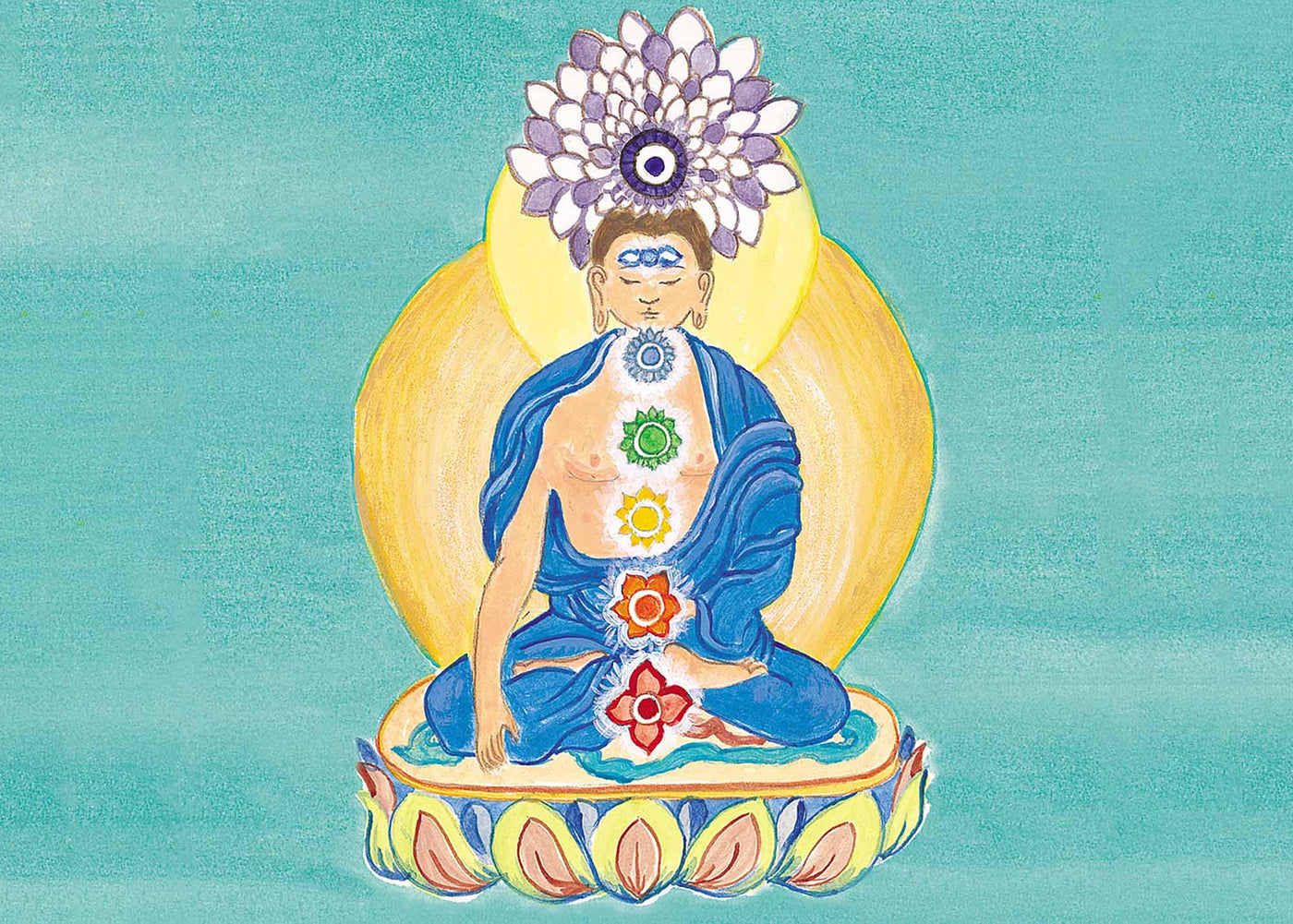 More About
Chakra Balancing Aromatherapy
The base chakra is grounded by earthy vetiver, patchouli and Atlas cedarwood. Creativity, charm and sensuality is awakened by the aromas of jasmine absolute, sweet orange, ylang ylang, mandarin and rose absolute. Ginger, rosemary and may chang ignite the solar plexus chakra, encouraging self-belief. Loving and compassionate geranium, bergamot and rose otto nurture the heart chakra and open you up to the love of the universe.

Sandalwood, cypress and cold-pressed lime open the throat chakra to truthful expression of self, while the third eye chakra is awakened by spiritually-sensitive lavender, juniper berry, frankincense, sage and everlasting. Precious and ethereal pink lotus absolute, clary sage and neroli pure essential oils open the crown chakra to the mysteries of the universe.