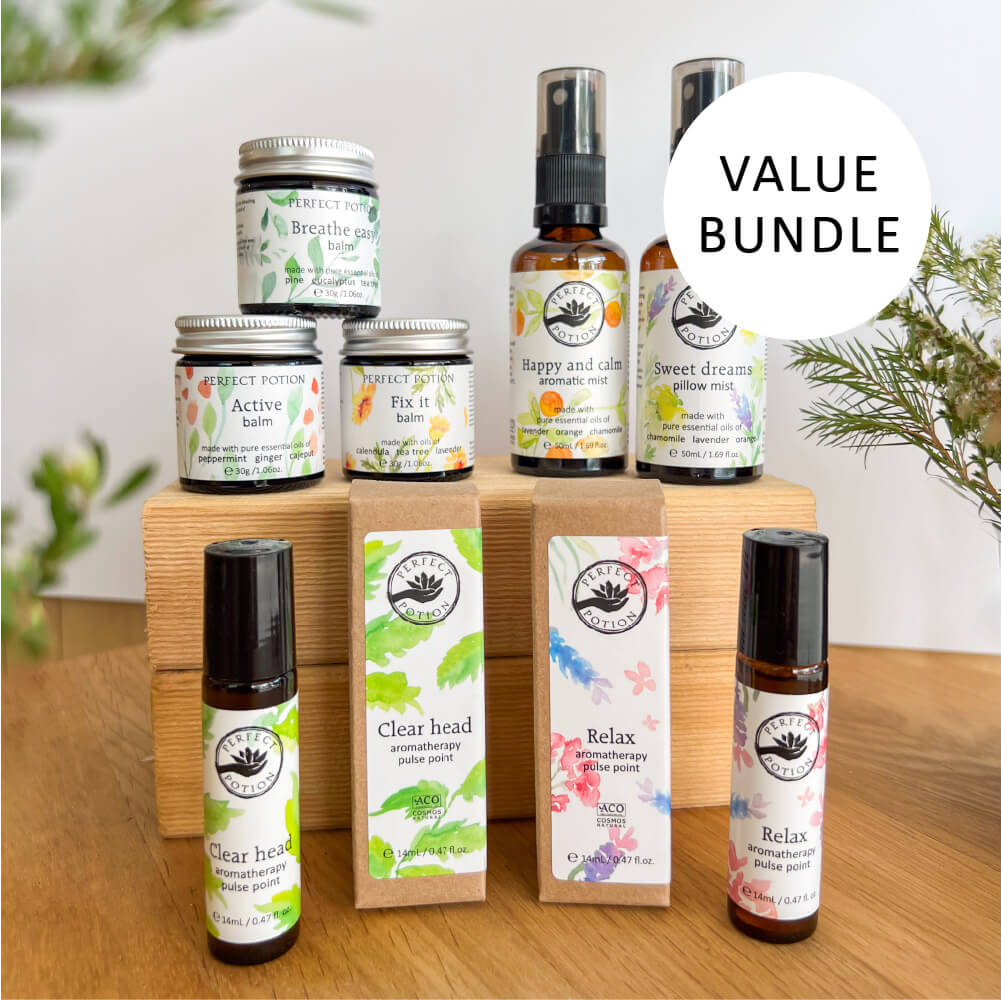 Aromatherapy Remedies Value Bundle
In stock & ready to ship
SAVE 22%! LIMITED TIME VALUE BUNDLE
Your natural first-aid kit! Our top-selling aromatherapy remedies all in one value bundle to help alleviate head aches, sore muscles, congestion, repair skin, encourage sleep and reduce stress.
Includes: Clear Head Pulse Point, Active Muscles Balm, Breathe Easy Balm, Fix It Balm, Sweet Dreams Pillow Mist, Happy & Calm Mist and Relax Pulse Point.
Cruelty Free
Australian Made
Recyclable Packaging
Sustainably Sourced
Clear Head Pulse Point

Our refreshing Clear Head Aromatherapy Pulse Point is extra-concentrated, formulated with a 10% concentration of revitalising pure essential oils in certified organic jojoba oil for fast absorbption and instant benefits.

Cooling and revitalising hakka leaf pure essential oil uplifts the spirit and alleviates mental fatigue and lethargy inspiring insight and mental clarity. Cleansing, revitalising eucalyptus essential oil allows us to breathe deeply and revives our spirits.

Active Muscles Aromatherapy Balm

Soothe aching muscles and muscular tension with pure essential oils of peppermint, cajeput, wintergreen and ginger in a warming balm of healing vegetable oils. Active balm promotes blood flow, releasing muscle tension and warming stiff, sore joints.

Breathe Easy Balm

Breathe Easy Balm utilises the powerhouse ingredients in our best-selling Breathe Easy Blend in the form of a smooth-textured balm which helps you absorb the healing benefits quicker. Made from entirely natural and organic ingredients, it can help provide natural relief when you're feeling chesty or have congested sinuses.

We also suggest rubbing Breathe Easy Balm into the soles of your feet and then popping on some socks. Your feet are highly absorbent and will allow the essential oils to be absorbed into your system quickly and deeply.

Fix It Balm

Care for your weathered skin and protect it from further wear and tear with potent pure essential oils of tea tree, lavender and calendula. Prevent the introduction of any nasties to the site with beeswax, a natural protective layer in this soothing balm.

Sweet Dreams Pillow Mist

Mist your pillow and bedsheets with Sweet Dreams Pillow Mist and snuggle up for a good night's rest. With pure essential oils known to help you sleep and Australian bush flower essences that facilitate deeper connection to your intuition and higher self.

Happy & Calm Mist

Especially effective for children and those who are young at heart, Happy & Calm Aromatic Mist is the perfect remedy to have on hand throughout the day to dispel grumpiness and nurture your inner child.

Relax Pulse Point

Invite peace and calm into your life wherever you are with this relaxing and conveniently portable potion. Our Relax Aromatherapy Pulse Point fits perfectly into your handbag to carry with you anywhere for instant relaxation and relief from stress.
Free Australian Shipping
We provide free shipping on all Australian orders over $50
$10 flat-rate shipping for orders under $50
$15 express shipping available on *most orders
International Shipping
We calculate live rates for International shipping at the checkout, to give you the best price for your order.
Full details of International Shipping
*due to freight restrictions, not all products can travel by air, and therefore cannot be sent via an express service. We will notify you at the checkout if we offer an express service for your order.