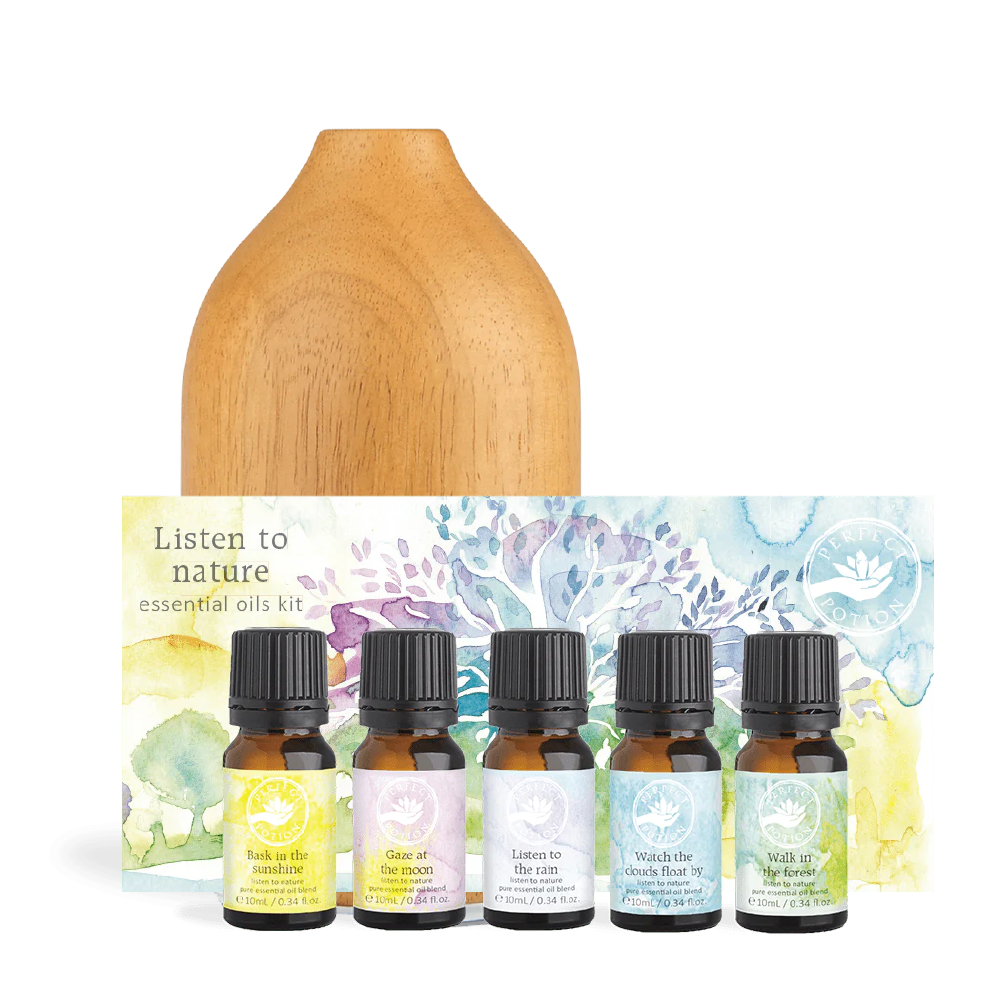 Surrounded by Nature Diffuser Gift Set
In stock & ready to ship
Awaken your senses to the beauty of the natural world with the Listen to Nature essential oils diffusing from this beautifully crafted light Wooden aromatherapy diffuser.
Light Wooden diffuser + Listen to Nature essential oils kit
Cruelty Free
Australian Made
Recyclable Packaging
Sustainably Sourced
Listen To Nature Essential Oil Blends Kit includes:

• Bask In The Sunshine blend
Feel the joyful vitality of the sunshine gladden your heart with pure essential oils of mandarin, sweet orange, pink grapefruit, bergamot, may chang, petitgrain and ginger.

• Gaze At The Moon blend
Allow yourself to feel pensive and reflective with pure essential oils of lavender, petitgrain, myrtle, clary sage, lemon, rosemary and Atlas cedarwood.

• Listen To The Rain blend
Soothe your restless soul and find tranquility with pure essential oils of lavender, grapefruit, vetiver, Atlas cedarwood, patchouli and Australian sandalwood.

• Watch The Clouds Float By blend
Surrender and allow your mind to drift away into a dreamy landscape with pure essential oils of grapefruit, petitgrain, lemon, geranium, rosemary, Atlas cedarwood, frankincense, spearmint and fragonia.

• Walk In The Forest blend
Feel invigorated and awake with pure essential oils of lemon, bergamot, lavender, sage, Siberian fir, rosemary, Virginian cedarwood, geranium and sweet orange.


Free Australian Shipping
We provide free shipping on all Australian orders over $50
$10 flat-rate shipping for orders under $50
$15 express shipping available on *most orders
International Shipping
Additional charges may apply for shipping this product outside Australia.