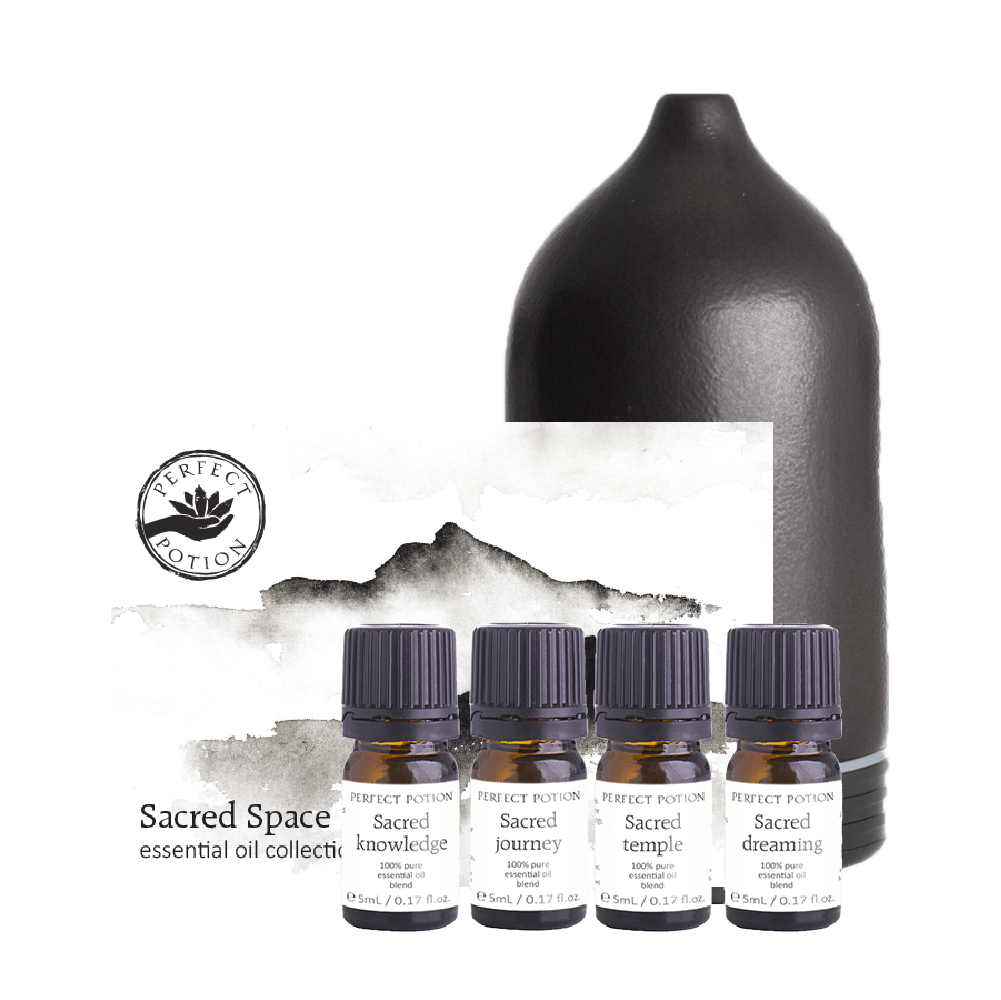 Sacred Retreat Diffuser Gift Set
In stock & ready to ship
Create a sacred retreat as you diffuse the Sacred Space essential oil collection. Mindfully curated with the stylish black Ceramic aromatherapy diffuser.

Black Ceramic diffuser + Sacred Space essential oil collection

Cruelty Free
Australian Made
Recyclable Packaging
Sustainably Sourced
Sacred Space Oil Blends Kit includes:

•Sacred Temple blend 5mL. Inspired by the sacred temples of Japan, this blend will help you to see the sacredness in all things. The pure essential oils of grapefruit, hinoki, hiba, lavender, bergamot, Atlas cedarwood, Vanuatu sandalwood, vetiver, clary sage, ginger, pine, buddha wood, and oakmoss absolute in Sacred temple is a Japanese inspired blend that recreates the sacredness embedded in all aspects of Japanese culture. Sacred temple blend will help us see the sacredness in all things.

•Sacred Journey blend 5mL.
Discover the sacred within. The pure essential oils of bergamot, cold pressed lime, lemon ironbark, scented fragonia, kunzea, clary sage, Atlas cedarwood, Australian sandalwood, ylang ylang, Roman chamomile, petitgrain, sage, vetiver, lemon myrtle, white frankincense, blue mallee eucalyptus, geranium in Sacred journey blend provides comfort and guide us on our personal journey to discover the sacred within.

•Sacred Dreaming blend 5mL
Become aware of your dreams and the messages they bring from your subconscious. Pure essential oils of geranium, rosemary, sweet orange, Atlas cedarwood, bergamot, patchouli, Australian sandalwood, peppermint, lavender, vetiver, ylang ylang and sweet marjoram in Sacred dreaming will enhance our awareness and perception of our dreams, which in turn connects us with the wisdom of our subconscious.

•Sacred Knowledge blend 5mL
Awaken your innate wisdom and connect with the knowledge held deep within your soul.
The pure essential oils of black spruce, lemon, vetiver, petitgrain, atlas cedarwood, basil, sage, white frankincense in Sacred knowledge blend awakens our innate wisdom, providing us with the strength and courage to connect our soul and intrinsic wisdom.


Free Australian Shipping
We provide free shipping on all Australian orders over $50
$10 flat-rate shipping for orders under $50
$15 express shipping available on *most orders
International Shipping
Additional charges may apply for shipping this product outside Australia.