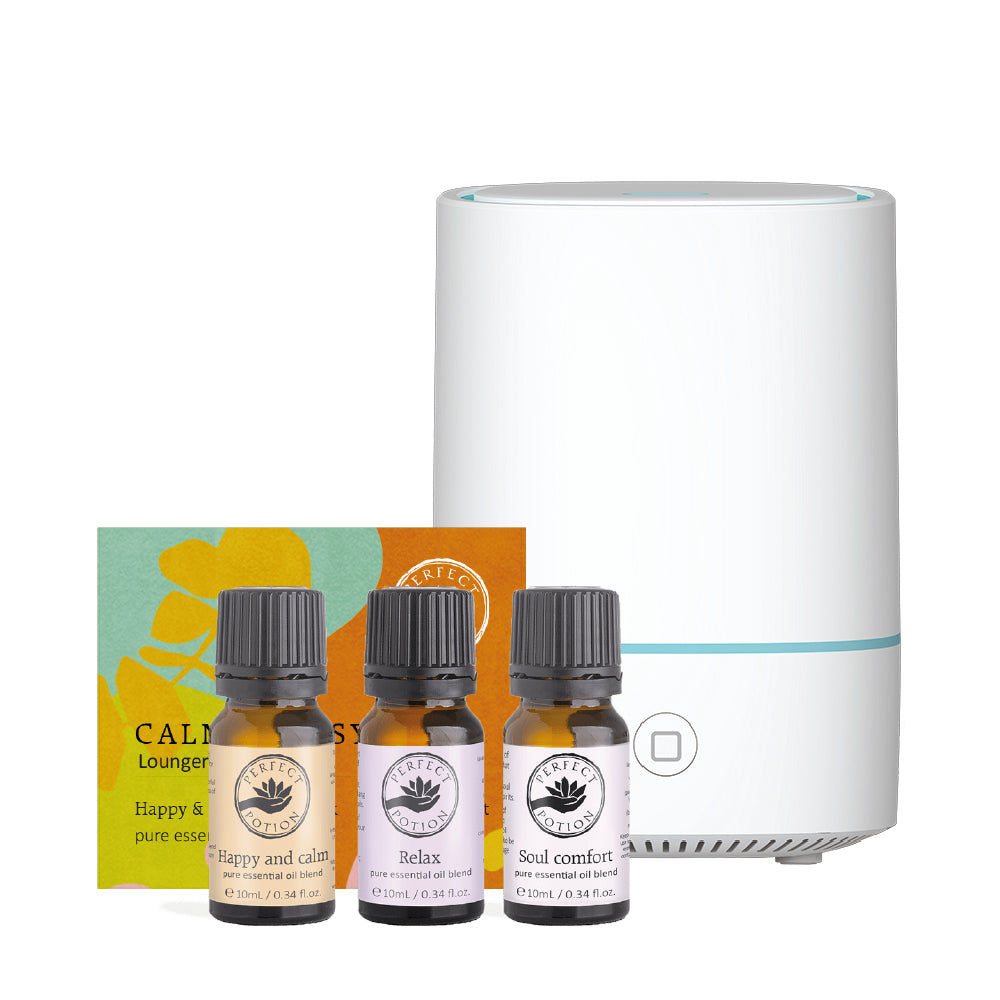 Freedom Portable Diffuser + Calm and Cosy Loungeroom Trio Gift Set
In stock & ready to ship
Freedom Portable and Rechargeable Aromatherapy Diffuser includes a FREE Happy and Calm blend.

The Freedom Portable, Cord free and Rechargeable Aromatherapy Diffuser uses ultrasonic waves to vaporise water and essential oils to produce a cool, aromatic mist. Create an aromatherapy haven with pure essential oils and the world's best aromatherapy blends from Perfect Potion.

Enjoy the freedom to place your diffuser anywhere without being tied to a power outlet.
Cruelty Free
Australian Made
Recyclable Packaging
Sustainably Sourced
• Happy & Calm Blend
Cultivate a positive, calming and comforting environment for your little ones with the warming, cheerful aromas of oranges, chamomile and lavender in this nurturing blend. Happy and Calm blend is especially effective for children or for those who are young at heart.

• Relax Blend
Ideal for creating a tranquil and calm environment, this beautiful synergy of relaxing and calming pure essential oils, including lavender, orange, geranium and ylang ylang encourages the mind to unwind and let go of tension.

• Soul Comfort Blend
The creation of this heavenly blend was inspired by the collective's need for comfort of mind, body and spirit. Feel grounded (patchouli), clear-headed (lemon), balanced (geranium), confident (bergamot) and expansive (frankincense); while being soothed, nurtured (sandalwood, rose, hinoki wood) and protected (Buddha wood) by the pure essential oils in this blend.
Free Australian Shipping
We provide free shipping on all Australian orders over $50
$10 flat-rate shipping for orders under $50
$15 express shipping available on *most orders
International Shipping
Additional charges may apply for shipping this product outside Australia.